Britain should disown the US if it launched a "preventative" attack against North Korea to stop it developing nuclear weapons, according to a leading military think tank.
Is the foreword on the Sky news websites article: 'Scenes of carnage' if North Korea crisis escalates into war, British report warns
Sky: The unusually blunt advice from the Royal United Services Institute (RUSI), which is the intellectual powerhouse behind the UK's military establishment, comes amid growing concerns that such an attack is being seriously contemplated by Donald Trump's administration. They write.
Me: Oh, what is this? The "special relationship" doesn't seem all that special now, does it? England preparing to abandon its "closest ally" when things start to look dicey; when a real sense of danger wafts through the air, England suddenly finds its resolve wanting; like a dog barking at the gate, only to high-tail it for the front door when the gate swings open. And this just shows you how much of a shit-show the Westminster government truly is; they make grand promises and assurances, and then buckle under any real pressure; they scramble from their hill of strength the moment a threat approaches.
And here was me thinking that America was our greatest ally; and so since when do allies abandon one another? Isn't the whole point of fostering alliances solely to provide back-up for either party in the eventuality of war? Sure, trade agreements that mutually benefit either country are by-products of such partnerships, as is continuing peace; but what good is peace and trade, if one half of the deal is armed to the teeth and sailing the waves of the Yellow Sea? Is this the sort of alliance America needs; an England already planning to abandon it in what could become a major world conflict? Now of course, America really doesn't need England, or the rest of Britain as a whole; America is a powerhouse, a giant and a god of war. So who cares, right? So what; let England scurry away like a cowardly dog, eh?
But then what does that truly say about any such special relationship? Of course America doesn't need us, but does that mean that we shouldn't stand shoulder to shoulder with them? Does that mean that we shouldn't live and die in our convictions as a country that stands by its principles and its word? If we say we have your back, should we not then have your back, regardless even if our friend is big enough and strong enough to handle himself without us?
Sky: A RUSI report says the UK "should refuse to rush into unconditional support for US action" if the US was to attack North Korea in an attempt to prevent it from further developing the ultimate weapon of mass destruction.
Me: Now listen, anyone who is familiar with my blog will know that I'm fairly isolationist, and also don't agree with Scotland sticking its nose into places it doesn't belong; but Scotland is in Britain, and Britain seems to cling to the teat of America, and so much so that it peddles this notion of Britain and America as brothers-in-arms, and as the best of friends of which the English controlled media that plagues Britain as a whole often likes to force-feed us on a daily basis; so as a Scotsmen, I feel compelled to point out that if America does go to war, then so should we. It's as simple as that, and that's my two cents worth on the matter; we should fight alongside them come what may, and not because of some ridiculous idea of brotherhood, but simply for the sake of self-respect and honor! Otherwise what are we but cowards and back-biters on an international scale not to be taken seriously? Isn't it funny just how hollow the English government now seems as it rolls over and offers its undulating and pendulous belly to the world? And think, what if America was to win this theoretical war, would it not then shun Britain for ever more; leaving us friendless and at the back of the cue for any resulting reconstruction contracts and positions of governance and influence on the post-war world stage? Way to think ahead, British cowards; in your rancid fear, you would potentially throw away whatever shred of credibility you have left to skulk under the desk whilst humming with your fingers stuck in your ears as you assume the fettle position.
Sky: In the report, author Professor Malcolm Chalmers writes: "(The UK) should make it clear that it had not been asked for its views in advance and that it would not have supported military action even if it had been asked."
Me: So what? If America goes to war with North Korea, then Britain automatically becomes a target regardless of whether or not we declare a side, what with it having up until then proclaimed itself America's chief parasite. Is North Korea, or even China, or Russia really going to care if Britain distances itself from America, when eventually it's probably going to join the war at some point anyway? So would it not make sense then for the east to make a preventative strike of their own to thwart that eventuality? Yet, if Britain was in the fight from the very beginning, then we would at least have our guard up from the get-go, and perhaps be better equipped to deal with any such attack in the first place for having a firm grasp on who our enemy is and where the strikes are likely to manifest. War doesn't care about gestures, it only cares about threats; Britain is a threat, whether or not it cowardly shrinks from the fray meantime, Britain would still be a threat by proxy.
Sky: "Casualties in such a conflict would likely reach the hundreds of thousands, even if no nuclear weapons were used. There could be far-reaching consequences for the global economy, involving sustained disruption of vital supply chains and markets." 
Me: I'll let Joseph Dunford, chairman of the US joint chiefs of staff respond to that one: "We can't let a madman with nuclear weapons let on the loose like that. We have a lot of firepower, more than he has times 20, but we don't want to use it… I hope China solves the problem. But if China doesn't do it, we'll do it"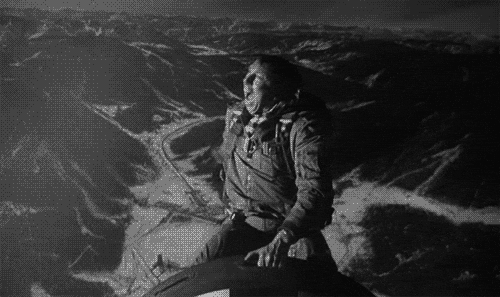 But, at the end of the day, would America really be all that surprised by England's lack of a spine in such tense, trying times? Of course they wouldn't; why would they? America is well aware that all Britain is good for is bending at the waist to accommodate their' slippered feet upon its back. America doesn't need Britain. Britain needs America, because without them, the empire 2.0 would be steam rolled into oblivion the moment the ships left Portsmouth. So, in understanding that, you would think that the sniveling cowards down at Westminster would be prostrating their feeble bodies in an effort to clamber around America's feet and swear allegiance to their boot-straps only to fool themselves into, and continue on, with the belief that America will make them great again.
Man up, or shut up; for if it was to come to blows, and then maybe even escalates into some sort of an actual major world conflict; sides will have to be taken. And I don't know about you, but I prefer fighting fresh, than already bloody. And sure, people would die, but then, people will die whether or not they are holding a gun or not. I come from a military family, I feel I should point out; with every man all the way back and to the Jacobite risings having been a soldier, or in some branch of the military, and so would no doubt have immediate family fighting in any such conflict, yet I'm perfectly fine with that; soldiers are soldiers, and they are trained to kill and die, that's their entire job description; and so I don't care about projected casualties, both military, and civilian, because again, people die en masse when wars are fought between powerful entities, and that's no reason not to fight, and it's no reason to go back on one's word, and its certainly no reason to abandon ones ally.
And look, I'm not a warmonger, nor do I have a Michael Bayesque hard-on for guns and explosions, but sometimes wars solve problems, or at the very least, they solve problems for future generations in hindsight. Again, I wouldn't relish war for the sake of war alone, but from a pragmatic standpoint, North Korea is threatening world stability, it is a menace to peace and is arming itself for conflict, and so needs to be put in its place by a firm hand, and if that means war, then what other recourse is there to counter such a flagrant and openly hostile threat. Diplomacy? Please; ever heard of the catastrophic diplomatic effort known as The Age of Appeasement?
Cinead MacAlpin.